This guide helps you understand the need for a dashcam and how to get one that best fits your requirements. You can install it yourself with our guide or use a third-party installer.  Last Update: Jan-2020.
Five Reasons to get a Dashcam
Security – you'd like to record anyone messing with your car, keying it or general vandalism
Accident Recording – If you're a good driver and get into an accident, it's more likely the other party caused it. Having a video record of the event can help confirm what happened.
Parking lot bumps – Another driver bumps or scratches your car while you are away, and fails to leave a note. Having a video may show the event, the perpetrator and their license plate.
Third-party events – crashes or problems you're not involved in, but would love to have recorded. This might be red-light runners or accidents between other cars in front or behind you.
Video log of a trip – Record your travels to show your family, friends or put on YouTube.
Comparison Guide
There are dozens of dashcams available today, but we've narrowed the list to a few popular dashcams that are good fits for the Tesla. There are a lot of budget dashcams. We don't recommend them, as they usually suffer from poor build quality and low visual quality.  Our editors select and review products independently. We may earn affiliate commissions from buying links, which help support our testing.
Manufacturer
BlackVue
Thinkware
Viofo/SpyTec
Model
(links to Dashcam Store)
DR590W-2CH
DR750S-2CH
DR900S-2CH
F800 Pro Bundle
Q800PRO
Product
 
 
 
Rear wired camera
1080p
Yes, 1080p
No, use 2nd unit
Price
High
High
Low
Included SD Card
16-128 GB
32 GB
No
Resolution Front
1080p 30 fps (590W)
1080p 60 fps (750S)
2160p 30 fps (900S)
1080p 30 fps (F)
1440p 30 fps (Q)
1440p 30 fps,
1080p 60 fps
Max bit rate Mbps
F=Front, R=Rear
F: 10, R: 10 (590S)
F: 12, R:10 (750S)
F: 25, R 10 (900S)
F: 9.5, R: 8 (F)
Unknown (Q)
22
Wide Dynamic Range
Yes
Yes
Yes
Video Format
MP4
MP4
MP4
Video Playback
No
No
Yes
WiFi
2.4 MHz (all)
2.4 & 5 MHz (900S)
2.4 MHz
No
App Win/Mac
BlackVue Viewer
PC Viewer
Dashcam Viewer
App Tablet/Phone
Android and iOS
Android and iOS
No
Audio Record
Yes
Yes
Yes
GPS
Yes
Yes
Yes
Backup Power
Capacitor
Capacitor
Capacitor
Lens (Front)
139° (590W, 750S)
162° (900S)
140°
160° f1.8
Lens Adjust
Vertical only
Vertical only
Vertical & Horiz.
LCD display
No
No
2" Color
Shock Sensor
Yes
Yes
Yes
Motion Detection
Yes
Yes
Yes
Max SD Card
256 GB
128 GB*
128 GB*
Function buttons
2
5
5
Size (Front)
119 mm wide,
36 mm diameter
110 mm wide,
32 mm x 41 mm
70 mm wide,
50 mm x 45 mm
Volts/Current
12-24v, 400 mA
12-24v, 290 mA
5v, 400 mA
Power, typical
5.6 W
4.1 W
2.0 W
Manual
User Manual 590W
User Manual 750S
User Manual 900S
F800 Pro User Manual
Q800PRO Manual
User manual
Released
Feb-2018 (590W)
Sep-2017 (750S)
Apr-2018 (900S)
Sep-2017 (F800)
Feb-2019 (Q800)
Jul-2016
* Manufacturer states 64 GB max, but owners have no problems with 128 GB
Each dashcam has several additional features, some unique to a specific brand. You're unlikely to need or want to use those features in a Tesla, and we didn't include them here. All three dashcams can be removed from the attached mount, have loop recording modes, have parking modes that only records when the image changes and shock detection to prevent overwrite of that video segment. They all do a good job at recording video in harsh conditions such as direct sun and nighttime.
Other Options
These are dashcams that other Tesla owners have purchased are worth consideration:
Azdome GS63H – One of the first to offer 4K 24 fps recording (2160p), 150 degrees wide, f1.8 lens, GPS and a 2.4″ LCD screen. The suction mount allows easy attachment/removal, but it not discreet when attached. Released April-2017.
BlackVue DR490-2H – The 2 channel model looks similar to the DR650 and upgrades the rear camera to 1080p recording. Do not confuse the very similar model name DR490L-2H which is physically quite different, but also offers front and back 1080p resolution.  No WiFi in either model. No internal GPS, but external GPS is an option. Announced in July 2017.

Note that there are gray market sellers, where BlackVue will not honor the warranty. Buy only from BlackVue or authorized resellers. USA resellers include The Dashcam Store and HDVD.

Vantrue N2 – Dashcam has 1440p 30fps recording (2304x1296P), 170 degrees wide-angle and has a second 1080p cabin camera. Has a 1.5″ LCD screen. The suction mount allows for easy attachment/removal. Includes GPS. Released  September-2017.
BlackVue DR650S/750S/900S Summary
BlackVue dashcams have been very popular with Tesla owners in the past and I own an older model and the newest 900S. On the 650S the low-resolution rear camera is a disappointment and the newer 750S or 900S is preferred. The 900S moves to 4K recording, which we consider well worth it. Note that while BlackVue recommends buying PowerMagic, this is really for ICE cars and is unnecessary and should NOT be used in the Tesla S/X, but may be needed in the 3. Use of PowerMagic may actually stop recordings while parked on the S/X.
Positives
Includes rear camera (with 2-CH versions)
The smallest size of the choices
Single SD card to record both front and back cameras
Cloud option to access remotely over WiFi
WiFi to phones and tablets
Best looking dashcam
4K Recording (900S)
Wider camera angle (900S only) captures more useful video
Negatives
Low-resolution 720p rear camera (650S only)
No Wide Dynamic Range feature (although still quite good)
App required to change settings other than WiFi on/off
Pricy
Thinkware F800/Q800 Summary
It offers a full 1080p rear camera and all the key features.  The F800/Q800 improves the low-light recording. Thinkware has two very similar products, the newer F800, and the F800 Pro. The F800/Q800 has a better low-light recording. The F800 non-pro and pro have really minor differences that may not matter to most Tesla owners. The Q800 improves resolution to 1440p.
Positives
Includes high-resolution rear camera
Single SD card to record both front and back cameras
Cloud option to access remotely over WiFi
An Amazon package includes the optional hardwire kit
WiFi to phones and tablets
Negatives
When parked, always turns off in 48 hours with no disable option
App required to change most settings
Pricy
Requires a 3-wire power (always on and switched power) making installation more complex. The Q800 can avoid this, but will not capture a bump when parked, only 20 seconds after the bump).
Viofo A119 Summary
This is the bargain of the bunch while offering different features and higher video quality. In side-by-side tests, many places license plates are readable where in 1080p the plates are not readable.  The UI is lackluster, but at least it has one – others require the use of an app to change settings. I also own this unit.  For the price, it is a good value, but the quirks diminish the shine and could be too annoying for some users.
Positives
High resolution – dramatically better than 1080p – visual quality similar to DR900S
Wider camera angle captures more useful video
Can take Jpg snapshots while video recording with a button push
On-screen display – can playback video in the unit, confirm date/time, recording modes, etc.
Can be powered by USB
Low price
Negatives
In settings mode, button choices are confusing
No rear camera option (although two units could be used)
Optional 12v to 5v hardwire kit required for Tesla ($11)
SD card not included (Class 10 SD cards are cheap nowadays)
Third-party app required for viewing on PC/Mac, no WiFi
Resolution Comparison
Here are two samples comparing a 1080p frame with a 1440p frame.  These were taken in the same location at the same time in my Tesla. The dashcams were about 5 inches apart.

Next, we look at the car on the far right at full resolution. Both are the same portion of the image, only cropped at 344×343 pixels. No image manipulation was done.  The portion from 1080p on the left makes it very hard to even tell what brand of car it is and it appears to be a black car. With the portion from the 1440p image on the right, you get enough detail to clearly make out the license plate, that the car is a grey Toyota Camry. If you know license plates, you can also tell it is a California plate.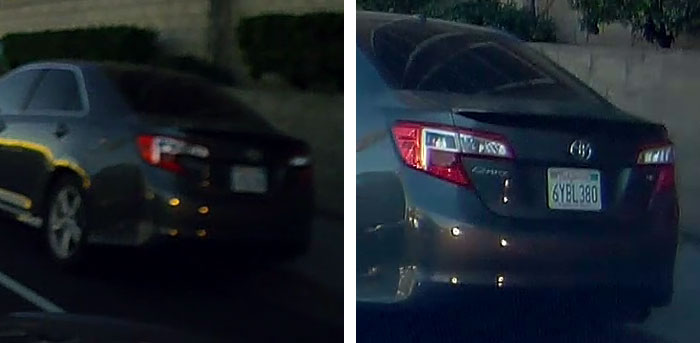 The 1080p image came from a BlackVue DR500GW-HD, while the Viofo A119 was used for the 1440p image. Settings on each device for maximum quality were used, and the frames were extracted from video while the car was in motion. The latest firmware in each as of Jan-2017 was used. We didn't cherry-pick these images – we compared multiple frames in different situations and saw similar results. We really wish more vendors would boost the video quality as it makes a huge difference.
We created a new resolution test with the BlackVue DR900S-2CH and the Viofo A110 in June 2018 in my Tesla. For this test we used the latest firmware for both, and used the highest quality options – 2160p extreme for the front DR900, 1440p for the Viofo, and 1080p using the DR900's rear unit pointed forward. All three camera lens was within 3 inches of each other, running at the same time.

You can click on the image above to see a larger view (but 50% of actual size due to how large the image is).  We did brighten the A119 image slightly to give all three images a similar brightness but otherwise did no other modifications. We also carefully picked the images from each camera to be matched within one video frame time-wise.
The colors in the DR900 appear a bit more natural to us. The clarity of the A119 1440p image is very close to the DR900 2160p front camera, but the DR900 is capturing a wider view requiring more pixels. The manufacturer's specs claim they cover the same wide-angle, which does not appear to be true.
We get some vehicle glare, which is typical of all dashcams. We normally use a polarizing filter to reduce glare but removed them for these tests. See below for more about polarizing filters. This last set of images were taken while the car was moving at 25 mph.  In other tests, even at 70 mph, the dashcam pictures hold up quite well. Ok, did you identify the silver car as a new Model 3 without a license plate?
Field of View
Another important issue is how much of the area does the dashcam cover. While no dashcam can show 180 degrees, several now offer a 160-degree view.  The wider the view, the more you capture of any events occurring. In this next image, we compare the Tesla built-in dashcam at 60 degrees vs. the 162-degree coverage of the BlackVue at the same spot, although not at the same time. We've also dramatically reduced the resolution of the BlackVue images to match the same height as the Tesla dashcam image.

In this example, the Tesla dashcam image on the left was also adjusted for brightness and color.  The BlackVue image on the right is so wide, that parts of the car's cream-colored A-pillar appear.
How Many Cameras?
The prime need is a front camera and covers much of what you'll want to record. A rear camera is a bonus and gives you far more coverage.  Many owners are opting for a dual-camera solution today.
A few owners go all the way and install 4 cameras, getting full 360-degree coverage.  For example, using two BlackVue 650S-2CH cameras, you would mount one primary at the front, and its rear camera on one side. Mount the 2nd BlackVue on the rear to get full 1080p rear coverage, and use its second camera on the other side.  The lower resolution side cameras would be mounted in the front door's small triangle window area.
If you have the built-in Tesla dashcam which has three cameras, the sides are fairly well covered, and a 4 camera third-party setup seems like overkill. Adding a front/rear for a wider field of view, higher resolution and other features can still be of value.
What about Tesla's Dashcam Feature?
Tesla provides some basic dashcam like abilities for vehicles with HW2.5 or later (vehicles built after July 31, 2017) with Tesla software version 9. Older vehicles do not get the dashcam feature, due to hardware limitations.
Four cameras used for recording do so at 1280 x 960 pixels, a fairly low resolution when compared with most dashcam alternatives. At this resolution, a license plate can only be read when the car in front is about 8 feet or less in front of you. Tesla also uses an odd frame rate of 36 fps. This makes it somewhat jittery when viewed on most video devices that require conversion to 30 or 60 fps.  Most third party dashcams start at 1920×1080 at 60 fps (1080p).
Looking at the Tesla dashcam video, the side and rear cameras look good, but the front camera is quite dim with a greenish cast. This is likely the optical effects of the light going through the windshield glass. It can be compensated after the fact with increased brightness and contrast, along with some color correction in video editing software.  Here's a frame in full summer sun at noon, before and after correction using Photoshop.

The recording is done to your own FAT32 USB flash drive, up to 1 hour in 1-minute segments while driving. An option is available to save the last 10 minutes by tapping the dashcam icon on the display. This moves 30 files from the RecentClips folder to the SavedClips folder (i.e. they are not copied).
Sentry mode keeps the cameras and AP processor powered up to record events. This consumes about 250W costing about 1 mile of range per hour. Sentry events are stored in the SentryClips folder.
While this integrated option from Tesla is a welcome addition, the best quality will come from the installation of your own dashcam cameras. Features currently lacking in the Tesla dashcam that are available in high-end dashcams like the BlackVue 900S-2CH:
4K resolution (front: 3840×2160 at 30 fps)
Front and rear recording (Tesla covers the front and both sides and rear)
Many hours of recording (depending on memory size)
Choice while parked of motion detection recording or time-lapse recording
Shock sensor to lock recordings and warning of shock event while parked
WiFi connectivity to view on tablets or phones
Automatic upload of view via WiFi to the Cloud when within WiFi range
Security indicators
Voice announcement of status
GPS tagging of location and vehicle speed into video
Player to seamlessly view the video, locate segments and map tracking of location
Many settings to customize the operation
No effect to the range when parked or driving
It' hard to beat the price (free), but not nearly as good as using a dedicated dashcam.
You may find our companion site CamMem to be helpful in understanding the Tesla dashcam, memory recommendations, preparing your drive and troubleshooting.
Front Dashcam Location
Ideally, you want it out of sight with the camera up high and centered on the windshield. For pre-AP cars and all cars with a very wide-angle dashcam like the DR900S, a good location is below the rearview mirror housing. On AP cars another option is to place the dashcam on the right side of the housing up higher if the mirror mounting doesn't obscure part of the image. The right side may also be a better place so the dashcam gets the best signal for GPS. This location should have a 'clear' area that does not have the metallic IR shield and it may help to be near the glass edge. I've tested the GPS both on the right and also below the AP2 housing and GPS works fine.
Another consideration is if buttons are in reach or if that is even important to you. Rarely will you need to press buttons while driving. During installation, be sure the lens is not obstructed by the black area of the windshield or the mirrors/AP housing. Confirm the lens is in the area cleared by the wipers. Confirm the unit and power connector will not bump into the headliner or mirror housing. Leave room to make the unit removable too, which varies by dashcam selected.
Rear Dashcam Location
Position the dashcam at the top of the hatch glass, so the dashcam lens is centered in the hatch. Ideally, you want the view to not be obstructed by a defroster line, but that may be difficult. If you ever expect to remove the rear mount, you may want to avoid placing any adhesive on the defroster line. When removing the mount, it will likely damage the defroster wire.
Always-On Power
You really want to keep your dashcam powered on all the time. The power use is minuscule in comparison with the battery capacity and you'll be able to record events while parked and you're away from your vehicle.
Keeping the power on is a problem on ICE cars, and various solutions designed for ICE cars works poorly on the Tesla S/X.  For example, the BlackVue recommends using the PowerMagic add-on. Do not use it in the S or X, but it may be necessary for the 3.  In the case of the Thinkware F770/F800, the 3 wire hardwire kit must be used to get around the power sensing limitation of its design.  For the A119, we've selected a hardware kit that works great in the Tesla. Be aware some other kits will power down when the 12v battery is low. Trust me, you do not want this to happen!  The Tesla 12v battery may appear "low" to a dashcam multiple times each day even while driving as the Tesla 12v battery is recharged automatically as needed from the main battery.
We've seen a number of reports that the Model 3 12V battery system does not play well with a dashcam that remains on while parked. It may show a 12V fault message and/or the 12V battery may need to be replaced.  One solution if you wish to maintain recording while parked in the Model 3 – BlackVue has a second battery backup option called PowerMagic Ultra ($299). Owners who have used this have reported no problems. Be aware it turns off the dashcam when this auxiliary battery gets too low. It should run the dashcam for about 24 hours when parked.
All dashcams come with a 12v cigarette lighter type power adapter. We recommend you try out your new dashcam before mounting using this connection. Get the hang of how the dashcam works and verify the video produced looks fine. Try out your planned mounting location before actually attaching it to ensure there are no visual obstructions. Since Tesla's 12v power plug turns off when the car is off, it is a poor choice for day-to-day use.
Front Camera Installation
Before you begin, clean the windshield in the area you plan to install the dashcam. I'd even perform a quick test to confirm your planned location does not have any viewing obstructions. The dashcams have a very wide-angle, and some positions may have visual obstructions. For example, the A119 fits very well up high, about 1″ away from the passenger's side of the AP/mirror housing, while the BlackVue may be better placed below the AP/mirror housing with the lens on the vehicle's centerline. Don't block the light sensor on the back of the mirror, on the driver's side. On a pre-AP car, you may prefer to be up on the passenger side of the mirror mount.
On the BlackVue it has "PITTASOFT" in white letters on the bottom of the mount facing outside. We'd rather go more incognito so we used a black Sharpie pen to blackout this logo before mounting.
Tools 
It may depend on the tools you have available, but we used a fish tape<, a screwdriver with a T15 bit, a small flat screwdriver, a black sharpie pen, scissors and several feet of string. Wire strippers and diagonals are useful for the wiring. Soldering iron and solder may be required depending on which power method you choose.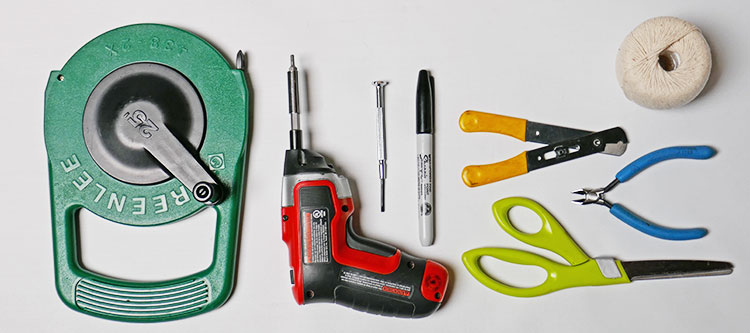 Microphone Panel Power (Model S)
Most Model S cars include an always-on power source in the headliner, behind the microphone panel.  To open this panel, pull down using your fingers, at the back edge. Two snaps will release and it will hinge down.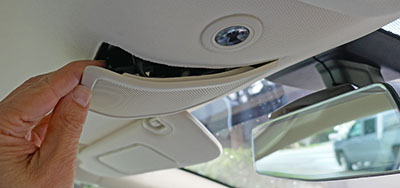 There should be a 4-pin, 3-wire connector taped to the panel, or in Europe, cars with the pano roof option may be connected to the intrusion module (part of the EU security package).
During a small period in late 2013 to early 2014, some owners were unable to find the connector and it may be missing or tapped up in the wire bundle. If missing, you'll need to route the wires to another point, such as the ODB II connector in the driver's footwell.
Intrusion Module Connector Pinout
Pin 1: 12v, wire color: Red/Dark Blue (older cars and AP2 cars), Tan/Black (after Oct-2014, before AP2). We've also heard one unidentified car had a gray wire!
Pin 2: LIN bus (do not use this wire), wire color: Light Green/Red
Pin 3: Ground, wire color: Black
Pin 4: Unused
Power Connection
You DO NOT want to install or use PowerMagic (BlackVue) on the S or X. It will only cause problems, but maybe needed in the 3. There are two microphones with 3 wires each. Do not connect to either of these, as there is no power on these connections. If you have the 4-pin intrusion module connector, this is the best source for always-on power. All cars made after September 16, 2015, have this connector, as do most 2012-2013 cars.
For a BlackVue installation, you'll need the BlackVue Hard Wiring Power Cable. It may have been included with your package, but it not, you'll need to get one.
We made a dashcam cable project that provides power without any cuts or modifications to your car using the same connectors as Tesla uses. It also works if you have the intrusion module or plan to buy one in the future.
Another option if you don't have or plan to have the intrusion module is to use a 4-Pin Fan connector that will fit the connector. Wires are pre-attached, so cut off the unneeded female end and solder your power leads to the pin 1 and 3 pigtails or use solderless connectors.  Pin one is a blue wire for +12VDC, and pin 3 is a red wire for ground.  We cut off the wires on pins 2 and 4 as close as possible to the connector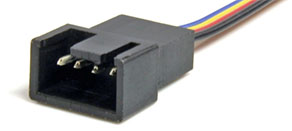 For our BlackVue DR900S installation, we cut the long two-wire cable to about 18″ and reattached the fuse. If using our dashcam cable project, just insert the dashcam power to the T connector and clamp shut. If using the fan connector, solder the wires. Other dashcams should have similar cables and can be attached to power the same way.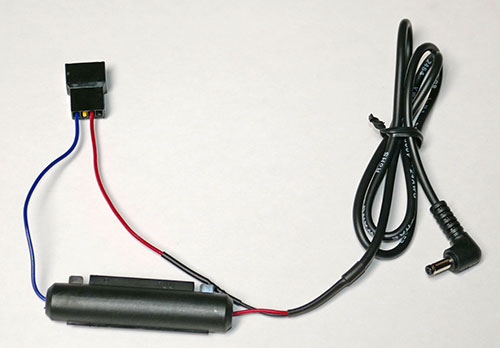 If using the fan connector, the wire colors do not match up as you might expect. Pin 1, blue, connects to the fuse. Pin 3, red, connects to the BlackVue black wire. The other end of the fuse connects to the BlackVue red wire. We used some heat shrink tubing to protect the connections.
Other power options (for all Dashcams) include:
You can tap into the wires with 20-24 gauge red Posi-Taps.
If the connector is not attached to a module:

You can use a male header strip. Cut off 3-pins of the strip and solder the red wire to pin 1 and ground to pin 3 (pin 2 is unused). Use heat shrink tubing to prevent shorts and clearly mark pin 1. I used a silver marker, but better to use red shrink-wrap on the +12v lead.  On my header, I pulled out the header center pin 2, which made it easy to tie wrap the header to the Tesla connector (to avoid coming apart under vibration).

You can buy the mating connector – TE part 3-968696-2 along with two crimp pins 1-928918-1 (sold in a strip of 100).

For the Thinkware F770/F800, you need to buy the 3-wire hardwire kit. The red and black power leads can be connected to power as shown above. The ACC yellow wire must be connected to a switched power source, so the parking mode works.  While we didn't install this dashcam, others have found the Tesla rearview mirror uses switched power and you may want to tap into this connection.
The mirror switched power wire color has changed over time. For older cars, you need to Yellow/Dark Green wire. For cars built after Oct-2014, the wire color is just Yellow. We have not confirmed the color in AP2 cars, likely still Yellow.
The mirror cable may be accessible from the microphone opening on pre-AP cars. It's a separate bundle of wires, wrapped in black. With AP1 or AP2, you may need to disassemble the camera housing and locate the rear-view mirror connector and tap into the correct wire using a Posi-Tap. We recommend you first confirm it is a switched 12v power wire with a voltmeter. Otherwise, you may need to pull out a part of the headliner (quite difficult) to access the bundle of wires with the switched power.
Model X Power
We've not done a Model X install but can describe the power connections.
For always-on power, you'll need to run wires up from the rearview mirror area up to the intrusion module's 8 pin connector near the dome light.  Use the black wire, pin 1 for ground, and the red-blue wire, pin 4 for power.  Do not use the green data wire on pin 2.
For the Thinkware F800, you'll also need switched power. You can tap into the 4-pin mirror power connector. Use the black wire, pin 1 for ground and use the red-blue wire, pin 3 for switched power. Do not use the green data wire on pin 2.
Model 3 Power
Model 3 uses an electronic fuse system, that if tapped into the wrong place, your dashcam will generate errors and problems!  Tesla was nice enough to provide a separate 10 amp circuit that is electronically fused for 15 amps. It is not used for anything else, but it is switched power – meaning the power turns off when the car turns off. Use Video1 and  Video 2 from Ingineerix to help connect to this power source in the cabin at the left footwell module.
Video Installation
Here's how we installed a BlackVue DR900S front camera in our Model S in less than 4 minutes (ok, we made a few edits to cut out long pauses).

Routing Power to the Microphone Panel
We want to remove the small visor receiver to make running the wire through the headliner easier. First, push the visor to the side. Using a small screwdriver, pop the plastic tab on the visor receiver. Be aware it is hard to snap open. Using a Torx T15 bit, unscrew the screw and remove the receiver.
Use a plastic pry tool to temporarily open a small gap between the windshield and the headliner near where you want power wire to exit the headliner. Leave the pry tool in place to keep a 1/8" opening or so.  I picked a spot about 5" from the AP/rearview mirror housing.
From the microphone housing opening, feed Fish Tape over and down through the location of the pry tool. I connected a 3-foot string to the fish tape.
Pull back the fish tape so the string is now hanging out both sides. Remove the string from the fish tape. At the microphone panel opening side, we tied the string to the power connector side of the dashcam power cable and pulled the string from the windshield side to get the cable through the headliner. Adjust the length and position of the cable to connect to the dashcam without a lot of slack. Remove the pry tool.
Other Power Sources
If you are unable to get always-on power in the headliner area, you can run the wires across the header and down driver's or passenger's A-pillar.
IMPORTANT: Do not push the wire into the side of the pillar! It houses part of the side curtain airbag. On the Model S, remove the pillar by first removing the small rectangular plastic tab that hides a screw.
Remove the T25 screw and snap out the pillar cover from the top. The bottom may be tightly secured and has a connection to the tweeter. You can work with it still attached at the bottom and save some aggravation.  You'll see a track in the pillar that is designed to feed wire without interfering with the airbag. Be sure to use this channel.
The black side panel of the dash is held on with three snaps. Just pull towards the door to remove, and disconnect the FOB bar antenna. The lower under-dash panel is held with one screw and snaps downward. Be careful not to pull or damage the knee airbag behind the panel.
Feed the wire down to the ODB II port. You can use an ODB II port connector to get always-on power without having to tap into any Tesla wires. If you use a bare ODB connector, pin 16 is 12v, and pins 4 and 5 are ground.
Rear Camera Installation
A dual dashcam requires a wire that is routed between the cameras. Single cameras, such as using the A119 or any other single-channel dashcam for the rear only require power, although you can run power from the front dashcam area to the rear.  Most of our installation advice is for a Model S (all roof types), and portions will apply to a Model X.  The Model 3 has a unique problem of where to mount the rear camera with an all-glass roof.
Our example installation is for the BlackVue DR900S-2CH but is very applicable to other dual dashcams. We expect once you have the parts and tools at hand, the installation should take less than 2 hours, and perhaps under an hour if you are very skilled.  That said, it took us about 4 days, with camera setups, trying out different ways that might work, and reshooting segments that were not clear or needed a better angle.
Tools
You will absolutely need a Fish Tape. You'll also need a 7mm socket wrench, a T25 screwdriver or bit to remove some screws, Pry tools, and other assorted items. We also used some string, electrical tape, and clear silicone sealant.
IMPORTANT: When routing the wire to the rear dashcam, it very important to do it in a way that does not interfere with the side curtain airbag deployment. In addition, you don't want to accidentally puncture the airbag while routing the wire!
Connecting between the front and rear dashcams
We found a good way to route the rear dashcam wire is along the headliner, around the A-pillar, along the right side front door rubber seal, around the B pillar, along the right side rear door rubber seal, down around the rear cabin corner cover, through the liftgate rubber harness grommet, and through the liftgate.
For the Model S, you will need about 19.5 feet (6 m) of cable. The BlackVue includes this length of cable. For our installation, we had less than 2 inches to spare!  This is partly because of careful routing to avoid the side curtain airbag and complex routing within the liftgate.
As an alternative (or on the Model X), you can go down the A-pillar and go along the sills. This approach will take more wire, often more than is included with the dashcam. You would be wise to buy a longer cable for your dashcam if you choose running along the sills such as a 10, 15 or 20 m BlackVue cable. We also explored some shortcuts, but each had problems or complexities, and we didn't want to drill holes or risk interference with the curtain airbag operation.
Tips for a successful install
Do not route on the left side of the car (even on RHD vehicles). On the liftgate, there is a left and right rubber harness grommets. The one on the left is packed tightly with antenna wires and it will be difficult if not impossible to add your dashcam wire.  The right side has a group of somewhat thinner wires, that allows for the dashcam wire and connector to be pulled through.
On the current generation of cameras, we don't recommend cutting and patching the cable. Beyond power, it supplies two-way data at very high speeds. While a splice may work, it could degrade the signal to a point where video becomes unreliable.
When attaching the rear dashcam, avoid placement where the adhesive is on a defroster wire. We don't think the heat will release the adhesive (but who knows?). Our concern is if you ever remove the dashcam mount, it may rip off a portion of the defrost wire.
Cable Cover (optional)
You'll see in the video we installed a cable cover to better hide the two wires that go to the front dashcam. This is not really necessary but make for a more professional looking installation.

Some owners have routed the wires through the AP camera housing, but we're reluctant to do this, as there might be a small chance of knocking the AP camera out of calibration and it may require cutting exit points for the wires.
Our cover was made using HD Glass PETG filament in black, using 200 µm layer height, with support. Due to high cabin heat, while parked, you should avoid PLA as it will likely warp. Here is our STL design file that you can use to make the part:
Video Installation
Here's a step-by-step actual rear camera installation in less than 18 minutes, although we trimmed some of the longer parts!

Rear Power Only
If the rear dashcam is stand-alone, you only need power, and the installation becomes easier.  While the power could be routed to the ODB II port near the driver's footwell, there is a closer spot if your car has the power liftgate. In this case, you connect to the always-on power lead on the Hatch Control Module.
To get to the module, it is located on the passenger side, behind the trunk's right-side panel.
There are two connectors going to the Hatch Control module, a 20-pin and a 10-pin. You'll tap into the 10-pin connector.
Pin 8: Red/Gray (thick wire), +12v
Pin 7: Black (thick wire), Ground
You can use two 16-18 gauge blue Posi-Taps to make these connections.
Use the last portion of the installation video above to route the wires into the liftgate.
Setup
General Tips for All Dashcams
When you first apply power to any dashcam, it often takes 10-30 seconds to boot up and come online. The delay is not important in normal operation, as it remains on all the time.
To remove the SD card, first, remove dashcam power. Wait 5-10 seconds until it powers down. There is a backup capacitor to allow time to stop recording and properly stop writing to the SD card. Once powered down, you can remove the SD card.
When removing the micro SD card, press in to release. Keep a finger close behind it as it is spring-loaded and can pop out and easily get lost!
BlackVue – All Models
You must either install the BlackVue to your phone or tablet or install an app to your PC (Windows or Mac).  You should also download and install the latest dashcam firmware. Full instructions for BlackVue's apps or installer here. For a PC, you must also decide if you want to use BlackVue's innovative cloud service or move the SC card between the dashcam and your PC.
Use the BlackVue on a phone or tablet and connect via WiFi to the dashcam. Download the Android app from GooglePlay or iOS app from the Apple App Store.
Thinkware F800/Q800
You can get the latest Thinkware firmware at Downloads.  First, choose your Dashcam at the top (F800/Q800), and then select the Firmware. To upgrade to the new firmware:
Unzip the downloaded firmware zip file
Format your Micro SD card in your computer to FAT32
Copy the unzipped firmware folder onto the root of the SD card
Insert the SD card into your camera and turn on the power
Wait for the camera to announce "Upgrade is now complete, continuous recording will now start." Thinkware recommends not turning off the dashcam power until it begins continuous recording as it can cause permanent damage to the dashcam.
On the same downloads page, you can get the PC Viewer for both Windows and a Mac.  After downloading, run the downloaded file to being the installation.  You use this app with the SC card temporally removed from the dashcam.
Alternatively, you can use the Thinkware Dash Cam Mobile Viewer on a phone or tablet and connect via WiFi to the dashcam. Download the Android app from GooglePlay or iOS app from the Apple App Store.
Either method allows you to change various settings in the dashcam to suit your needs, and view videos.
Viofo/SpyTec A119
Download the latest A119 firmware and unzip the file (2.0 as of this writing)
Format the SD card by camera or on a computer as FAT32 (note Windows cannot format FAT32 greater than 32 GB – use an alternative utility or format within the dashcam).
Insert the card in the camera and connect it to your PC using a USB cable.
Copy only the LDBA119.bin on the root of the SD card.
After LDBA119.bin is copied to the SD card disconnect the dashcam from your computer.
Reconnect the dashcam to your computer and wait a few seconds until you see Mass Storage on the LCD screen.
Delete the LDBA119.bin file from the SD card using your PC and copy the FWBA119.bin file to the root of the SD card. Disconnect the dashcam from your computer.
Reconnect the dashcam to your computer and wait until you see Mass Storage, the front LED blinks while the upgrade is in progress. After the upgrade completes successfully, the FWBA119.bin file is automatically deleted by the dashcam.
Now you can disconnect the camera from PC and connect it to the vehicle's power connection or if you want to experiment with it, power it from any AC to USB adapter (i.e. not the PC).
To change settings, if the Rec button is red (i.e. recording) press it once to stop recording – it takes a second, but should switch to flashing. Then press Menu. Ignore the bottom line of the display- the choices do not relate to button positions!
Use the < Rec and Mic > buttons to scroll through the setting choices and the center Warning button to view or change a setting.
When viewing a setting, the < Rec and Mic > buttons shift through the choices for that setting. To save a setting press the center Warning button. To exit without saving press the Menu button.
Here's our recommend quick starting point for the settings:
Resolution: 1560 x 1440P 30 fps (default)
Loop recording (each file duration): 3 minutes (default)
EV (Exposure Value): 0 (default) or if using CFL filter: +1
WDR (Wide Dynamic Range): On
Time-lapse: Off (default)
Motion Detection: On
GPS: On (only works when connected to GPS mount)
G-sensor: (shock recording): Middle Sensitivity (default)
Time Zone: GMT-8 (for Pacific Standard Time)
others – leave at defaults
Enhancing your Dashcam
One simple enhancement is the installation of a circular polarizing filter (CPF) for your dashcam. This greatly reduces glare from windows and other cars. These are snap-on filters, so are easy to add.  The filter will reduce the brightness slightly, so you may want to increase the exposure a few stops in the settings.
BlackVue – Filter for the 900S Front, Filter for the 750S Front The cost is about $35.
Thinkware – F800/Q800 Filter is about $25.
Viofo/SpyTec – A119 CFL is available for $15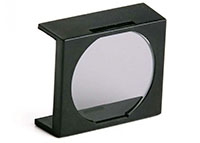 Viofo Snap-on CPL Filter
Micro SD Cards


Most dashcams use a micro SD card to record the video. Since video is continuously recorded to the SD card, it's important to get a high-quality card designed for continuous HD video recording. A card rated for Class 10 is a minimum speed threshold and UHS-I is even better (and required for 4K video).  You may also want to get a card with high capacity, 64 to 128 GB to increase the storage time before the video is overwritten.
Typical recording time at maximum quality, 30 fps
| Micro SC Card Size | 1-channel 1080P | 1-channel 1440p | 2-channels 1080p | 2-channels 2160p* |
| --- | --- | --- | --- | --- |
| 16 GB | 3 hours 20 minutes | 1 hour 49 minutes | 1 hour 25 minutes | 55 minutes |
| 32 GB | 6 hours 40 minutes | 3 hours 39 minutes | 2 hours 50 minutes | 1 hour 50 minutes |
| 64 GB | 13 hours 20 minutes | 7 hours 18 minutes | 5 hours 40 minutes | 3 hours 40 minutes |
| 128 GB | 26 hours 40 minutes | 14 hours 36 minutes | 11 hours 20 minutes | 7 hours 20 minutes |
* 2160p 30 fps front camera, 1080p 30 fps rear camera
Fake Drives
Be aware there are a lot of fake and damaged SD cards sold on-line. If the price is too good to be true, it's a fake drive. Scammers have figured out how to remark a cheap slow drive as a larger capacity and override internal values to make it look like a larger drive. For example, a 2 GB drive is sold as a fake 64 GB drive. It will appear as 64 GB from your PC/Mac, even if you reformat it. After writing more than the real capacity, the data is either lost or overwrites earlier data, but no errors occur. When attempting to read the data, most of it will be corrupted.
To avoid a fake drive, purchase only a name brand and buy from retail or a trusted online retailer like Amazon, BestBuy or Newegg. Avoid open packages and auction sites like eBay as most drives are fakes.  The scammer hopes you'll not discover the drive is crap until the return period expires.
Limited Life
There are two types of flash memory – low-cost TLC, which can be overwritten about 500 times before failure, and the more expensive, but more durable MLC, which are at least 3 times as durable and can be overwritten about 1500 to 3000 times.  MLC cards usually have better error correction and wear leveling to further increase the lifespan. The larger the drive, the longer it will last, as the data is not overwritten as frequently.
Our Recommendations (all are long-life MLC types)
All of these drives are suitable for HD Dashcams. High-resolution 4K recording requires 25 MB/s write speed, and dual camera dashcams, like the BlackVue DR900S-2CH, requires 35 MB/s write speed in the highest quality mode. Our editors select and review products independently. We may earn affiliate commissions from buying links, which help support our testing.
| Micro SD Card | Category | Read | Write |
| --- | --- | --- | --- |
| Samsung PRO Endurance 32 GB | UHS-I U1 | 100 MB/s | 30 MB/s |
| Samsung PRO Endurance 64 GB | UHS-I U1 | 100 MB/s | 30 MB/s |
| Samsung PRO Endurance 128 GB | UHS-I U1 | 100 MB/s | 30 MB/s |
| SanDisk High Endurance 32 GB | Class 10 | 20 MB/s | 20 MB/s |
| SanDisk High Endurance 64 GB | Class 10 | 20 MB/s | 20 MB/s |
| Transcend High Endurance 16 GB | Class 10 | 12 MB/s | 20 MB/s |
| Transcend High Endurance 32 GB | Class 10 | 12 MB/s | 20 MB/s |
| Transcend High Endurance 64 GB | Class 10 | 12 MB/s | 20 MB/s |
| Transcend Ultimate 128 GB | UHS-I U3 | 95 MB/s | 60 MB/s |
SanDisk, other than High Endurance, is not recommended for BlackVue due to reported boot problems on some models.