We have a new site CamMem.com that focuses exclusively on the Tesla Dashcam, including:
Recommendations
Our editors select and review products independently. We may earn affiliate commissions from Amazon buying links, which help support our testing. Any of these should work great to record Tesla's dashcam video. Speeds are from the manufacturer for the drive sizes listed.
Smaller capacity drives (not shown below) are often slower than larger ones. Price categories indicate the rough value of items unless otherwise stated.
| Value Indicator | Range |
| --- | --- |
| $ | up to $24.99 |
| $$ | $25 to $49.99 |
| $$$ | $50 to $99.99 |
| $$$$ | $100 and above |
SD Cards with Adapter
There are several adapters that convert an SD card for use as a USB stick. This allows the use of micro SD cards, often designed specifically for dashcam video with extended lifetimes and suitable temperature range over other flash drives. In addition, the adapter can be connected to a phone, tablet or PC to view the video.
The adapters listed support a variety of SD card types (we recommend micro SD, but others work as well). They are USB 3.0 and work on both PCs and MACs. The first three work with Android phones that offer OTG and the specified connector. The Difini and SmartQ work with current iPhones (not shown in picture). This allows you to quickly view video files on your phone. Adapters below are shown with caps removed, and I've inserted a micro SD card in the side of each adapter.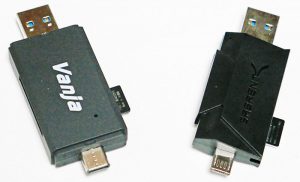 The adapters above require an SD card, which is sold separately. All of the micro SD cards below are designed for dashcam use and are longer life MLC types.

Stick Style Flash Drives
Before V10, Tesla added a performance test and will shut out the drive if too slow. We and others are finding even some seemingly fast drives are being failed by Tesla's speed test. On closer examination, the drives fail to maintain the write speeds at a sustained rate and can slow down dramatically as the drive fills up.
We're now recommending using micro SD cards with an adapter, but we list the best stick drives that may work for you. Note the temperature range may be inadequate in your car.


The price differences are likely due to the type of memory used. We could only confirm the Transcend drive uses MLC memory, which has the best lifetime (and highest price).
Drives that are known not to work reliably in all cars:
| Vendor | USB | Read/Write | Temp |
| --- | --- | --- | --- |
| SanDisk Extreme Go, 3.1 (all sizes) | 3.1 | 300/50 MB/s | 32 to140°F |
| SanDisk Extreme Pro, 3.1 (all sizes) | 3.1 | 420/380 MB/s | 32 to 95°F |
SSD Drives
Some owners use an SSD drive with a SATA to USB converter. This should work fine, so long as the SSD drive peak power consumption is under 2W for S/X or 6.2W on the Model 3/Y.  Many larger SSDs 256 GB or larger consume more than 2W while writing, and peak consumption is even higher. Even some smaller drives exceed Tesla's USB power budget. If you exceed the power needed, writes become intermittent and it's even possible to damage the SSD drive. Here's one SSD power consumption guide we found, but it does not rate peak power.
SSD drives often have great wear-leveling technology that extends the life of the drive. This technology is not in USB stick type flash drives or SD cards. The downside is the limited temperature range. The drives are intended for use in a home, not a car.
Here are some USB based small packaged SSD drives that are below 6W, and will work fine in the Model 3.  During writing, the peak power may exceed the power available on the Model S/X USB 2.0 ports, so it may not work reliably on the S/X.

Wireless Connection USB Drive
A few users have purchased the SanDisk Connect Wireless Stick, which acts as a normal flash drive for recording, but when removed and separately powered, it can connect via WiFi to your phone or tablet.


It's a USB 2.0 drive, that is slow, and may not keep up with the four channels of video streaming. That said, a few owners are using it and haven't reported issues.
TeslaUSB with Raspberry Pi
For the power DIYer, there is the Raspberry Pi or the smaller Raspberry Pi Zero (Paid Links). In combination with the TeslaUSB software, you have a small computer that makes the file system available to a USB port.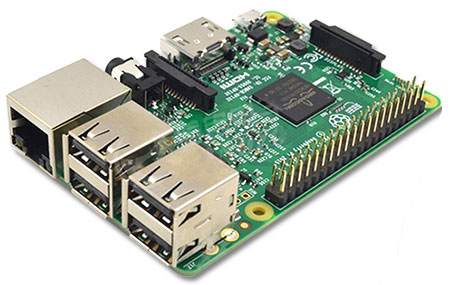 You can have video files saved for later, getting around the Tesla one-hour limit, or even having the Pi computer auto-upload via WiFi to a home network when you arrive home. The Raspberry Pi uses a micro SD card, which allows for a dashcam grade memory. See our section above on micro SD cards if you go this route.