Our analysis includes all Model S and Model X audio systems.  We'll continue to update this analysis as Tesla makes further changes. As of mid-2018 and later, all Model S and X vehicles include Premium/Ultra High Fidelity System (UHFS).  The new Palladium 2021 LR and Plaid S/X have a new 22 speaker sound system. We'll update this when more details are known.  (Jan-2022 Update)
System Features
Feature
Model S
Standard
Model S
Premium*
Model S Palladium
Model X
Standard
Model X
Premium
Model X Palladium
Radios
AM/FM-HD
FM-HD
FM-HD
FM-HD
FM-HD
FM-HD
Internet Streaming
Yes
Yes
Yes
Yes
Yes
Yes
USB Ports for music
2
2
3
2
2
3
USB Ports charging only
2****
2****
2- fast
3
3
4-fast
XM Radio**
n/a
Yes
Yes
n/a
Yes
Yes
Discrete Channels
2
5
7
2
5
7
Midrange and Tweeters
6
11
19
9
11
19
Subwoofer
No
Yes, 8"
Yes, 8"
No
Yes, 8"
Yes, 8"
Non-Music Speakers
1
1
3
5
5
7
Speaker Magnets
Standard
Neodymium
?
Standard
Neodymium
?
Total Amplifier Power***
200 W
560 W
960 W
200 W
560 W
960 W
Surround Sound
No
Yes
Immersive
No
Yes
Immersive
Active Noise Cancelling
No
No
Yes
No
No
Yes
*Originally called Sound Studio, then UHFS (Ultra High Fidelity Sound), and later Premium.  Prior to March-2018, included AM radio.
** In mid-2018, XM is included in all vehicle configurations. Prior to mid-2018, it required a Pano roof, as the XM antenna needs to go through roof glass. Cars in 2012/2013 without pano roof could have XM, as the antenna was mounted in the hatch glass on these older vehicles. North America Only.
*** Not stated as RMS, so presumed to be peak power, typical of vehicle audio specifications.
**** Refreshed Model S only, manufactured April 2016 and later
Speaker Components
Type
Part Number
Size
Impedance
Subwoofer Bassbox
1004833-05-C
25 liters
Woofer Assembly
1004833-11-A
(speaker 1004833-03-A)*
8" (200 mm)
1 ohm
Mid-woofer
1004933-02-A
6" (160mm)
2 ohm
Mid-range
1004833-01-A
3" (80 mm)
2 ohm
Tweeter
1004833-00-A
1" (30 mm)
2 ohm
* It's not clear the UHFS/Premium sound door speakers can be purchased from Tesla by itself. Only the assembly which includes the speaker is listed in the parts catalog.
Speaker Locations
Location
Model S
Standard
Model S
Ultra
Model S
Palladium
Model X
Standard
Model X
Ultra
Front Dash
2 – 1" tweeters
1 – 3" mid-range
2 – 1" tweeters
3 – 3" mid-range
2 – 1" tweeters
3 – 3" mid-range
2 – 1″ tweeters
2 – 1" tweeters
1 – 3" mid-range
2 – 1" tweeters
3 – 3" mid-range
Front Doors
2 – 6" mid-woofer
2 – 8" mid-woofer
2 – 8" mid-woofer
2 – 2″ tweeters
2 – 6" mid-woofer
2 – 8" mid-woofer
2nd Row Doors
2 – 6" mid-woofer
2 – 6" mid-woofer
2 – 6" mid-woofer
2 – 2″ tweeters
2 – 6" mid-woofer
2 – 6" mid-woofer
3rd Row, Rear Hatch
2 – 3" mid-range
1 – 8" Subwoofer
2 – 3" mid-range
1 – 8" Subwoofer
 2 – 3" mid-range
2 – 3" mid-range
1 – 8" Subwoofer
Headliner
4 – 1″ tweeters
Inside Tesla's Audio System
The audio systems for both the Model S and Model X were originally designed by s1nn. Harman International Group acquired s1nn in early 2015. Harman owns major brands such as Harman Kardon, Infinity, JBL, Lexicon, and Mark Levinson. They also produce high-end vehicle audio systems for a number of vendors including Audi, Bentley, Porsche, and now Tesla.
The audio system is integrated into the MCU by Tesla and manufactured by Tesla. The primary amplification module in all cars resides as the back part of the main display and provides 200 watts of power.
In the standard system, each of the four 6" door mid-woofers and the 3" center mid-range get a separate 40-watt A/B amplifier (5 total). The tweeters are passive on the standard system and are likely powered by the two front door speaker amplifiers.
Ultra gets an additional 7 channel 360-watt class A/B amplifier that resides below and behind the instrument display. The Ultra configuration moves two of the 40W channels from the primary amplifier's front doors to the two additional 3" dashboard mid-range speakers. The added amplifier provides 20 watts to each of the tweeters, 80 watts to each of the larger 8" front door speakers, 40 watts to each of the 3" rear hatch speakers, and 80 watts to the rear 8" sub-woofer.
The sub-woofer is mounted in the right rear corner and is not directly visible. Tesla uses a custom-designed 6.6 gallon (25-liter) enclosure for an improved low-end response. This enclosure is considerably larger than most other sub-woofer-equipped luxury vehicles.
Delving deeper into the design, the audio path uses a DSP (Digital Signal Processor) to better control the sound dispersion in the car for all occupants. This DSP is software controlled allowing the designers a great amount of flexibility to tune each speaker to the car.
It was reported by s1nn that the Tesla system includes Volume Management. This automatically changes the volume and bass level based on the vehicle's speed (i.e. noise from outside) and the climate control's fan setting (inside noise) to maintain clarity as these noise sources get louder or softer. My own analysis with a spectrum analyzer did not see any volume changes at different frequencies with fan speed changes, so s1nn may not have actually included this feature on our cars. This test was done with 7.0 software and an MS with the standard audio package for 800 Hz to 8 kHz.
Signal sources include Internet streaming via WiFi/Cellular, FM and FM HD Radio, XM Radio (in the North American Premium package), Bluetooth (compressed), and via the USB ports (MP3, FLAC, AAC, WAV, etc.).  S/X vehicles with MCU1 (made before March 2018) also include AM radio. Tesla includes a DAB/DAB+ radio in most cars outside North America as standard. Prior to mid-2015, DAB/DAB+ only came with the Premium package.
The early audio amplifiers are made in Hungary, while the speakers are made for Tesla in China. Most of the equipment appears to be created specifically for Tesla and is not a rebranded product. Tesla logo appears not only on labels, but molded into plastic parts such as the polycarbonate speaker baskets.
The tuner module for FM, FM HD, and AM radio for MCU1 cars was built by Panasonic Automotive in China and provides analog audio to MCU1. It is located under the dash on the far left. Premium systems have a different module that adds in XM radio. Outside North America, the module includes the DAB/DAB+ radio. MCU2 switched to a digital FM/XM tuner made by Harmon in Mexico.
Audio Optimization
Tesla offers a Dolby ProLogic Surround option with the Ultra system to convert stereo source maternal into surround sound on MCU1 equipped cars. The general opinion is this distorts music more than it helps, and should be left off. A software improvement was made in late 2017 that improved the quality, such that some owners now like the option. The system only supports stereo source material. For example, FLAC files support up to 8 channels, but only 1-2 channel mono/stereo files can be used from USB files.
With MCU2, Dolby Surround was dropped and a new Immersive Sound option became available. In listening to it off and active, we liked how it sounded. Worth trying out. All Model 3/Y cars and S/X vehicles made after February 2018 include Immersive Sound.
Tone and Balance Controls
Use the tone and balance controls to adjust the system to your personal preferences. For example, if you have some hearing loss in the upper frequencies you might increase the treble. If you listen to books or talk shows, you might increase the mid-range to improve vocal clarity. Be aware that other passengers may not have the same hearing desires as you so sometimes a compromise will be necessary.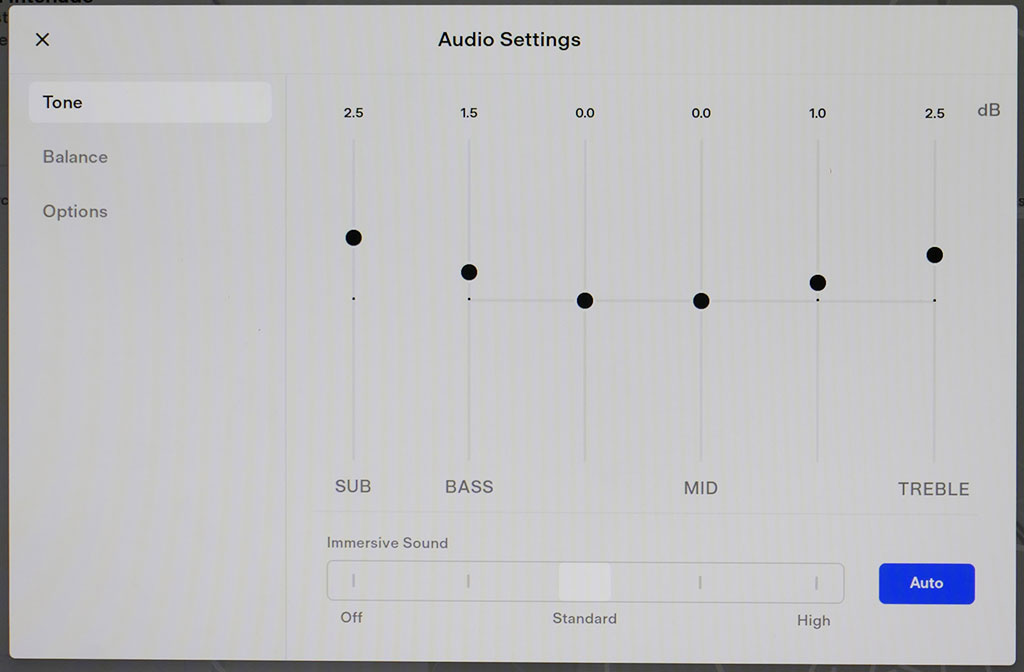 While you can jack all the tone controls up to increase the volume, unless you really need that extra volume, it may add distortion between the bands. It's is best to have a least one tone control set to zero and adjust the others to get the overall effect you want.
Depending on if you have any passengers, you may want to adjust the balance to the center or favor the front or rear soundstage. A standard system has weaker rear speakers, so you may shift the fade further back than those that have the Ultra system.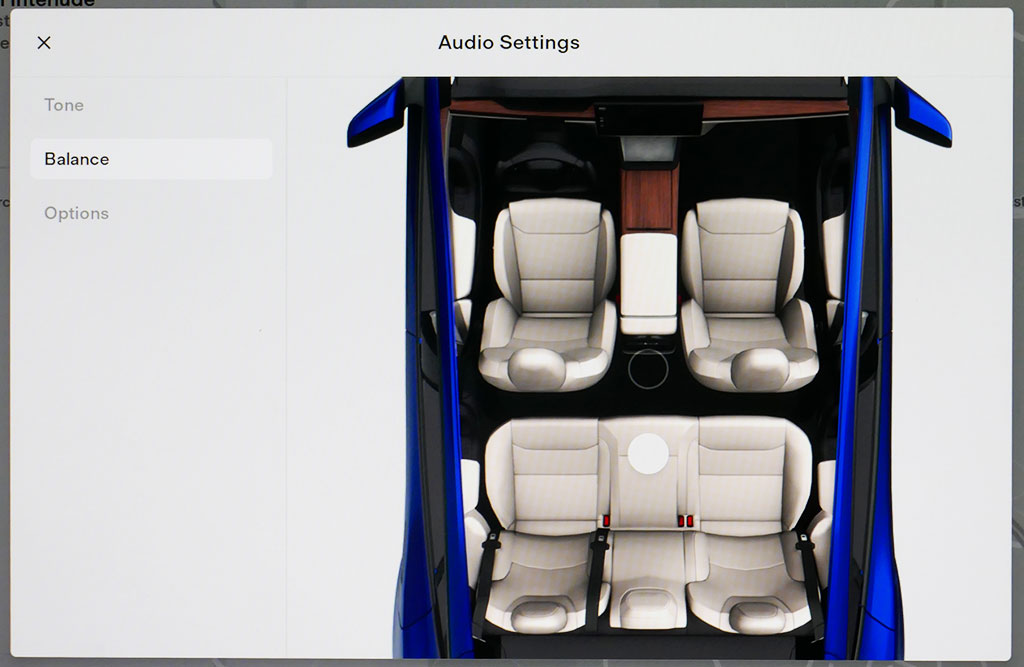 More on Audio
USB Flash Drives for Music
Streaming Audio
MCU2 Upgrade and the AM/FM/XM Radio Issues
Audio Enhancements
Project: Adding a Subwoofer (Model S)
Project: Upgrading Rear door speakers (Model S)
Press Release: S1nn (archived, scroll down below German version for English)