We'll explain what drives you should consider, how to avoid getting ripped off, and select the best format, and settings that can make a world of difference. (Oct-2023 Update)

Using a USB flash drive for your music provides a number of benefits over other music sources:
Possible to have lossless audio quality, superior to all other sources
Ability to have far more content than the limited space in phones via Bluetooth
Your music library is automatically sorted into various groups such as Artists, Albums, Genres, etc.
Key sections:
PART 1: Picking a drive
While it is possible to use a hard disk drive or even an SSD via a USB enclosure, USB flash drives are the way to go – both being small, fast, economical, and easy to use.
Drive Capacity Needed – Number of songs
| | | | | |
| --- | --- | --- | --- | --- |
| Size | 128 kbps | 256 kbps | FLAC | WAV/AIFF |
| 512 GB | 32000 | 16000 | 24000 | 12320 |
| 256 GB | 16000 | 8000 | 12000 | 6160 |
| 128 GB | 8000 | 4000 | 6000 | 3080 |
| 64 GB | 4000 | 2000 | 3000 | 1540 |
| 32 GB | 2000 | 1000 | 1500 | 770 |
Notes: Approximation based on 4-minute songs. 128 kbps/256kbps are for compressed, lossy AAC and MP3 formats. FLAC is at a 16-bit/44.1kHz lossless "CD" quality and will vary depending on the music and other factors.  WAV/AIFF is lossless and non-compressed 16-bit/44.1kHz.
While there does not appear to be any limit to the number of songs, MCU2 (S/X) and 3/Y can act erratically when a large number of songs (> 1500 or so).  When you leave the car and return, it may not remember the last song that was playing and you may need to reselect it.  In some cases, when starting up the car, it rescans the drive. No songs can be selected or played until the drive is fully scanned. For an 8,000-song library, this can take 2-3 minutes.
Style
There are a large number of flash drive packaging styles, but you'll likely want one that is either low-profile or a cap-less stick design. Avoid unusual-shaped bulky drives as they may block access to the second USB port on the Tesla.
Low-profile drives are more limited in capacity so a stick drive may be your only choice. For cars with a console and using a stick drive, you might get a short 6-inch left-angle extension cable (not shown). If you have an older car without the console, we recommend a Left Angle USB Adapter so that the stick lays flat rather than sticking out.
Often drives come in flashy colors or chrome. While clearly a personal preference, consider one that doesn't stand out to keep the drive less obvious to possible thieves if your car does not have the Tesla center console.
Performance and USB 2.0 and 3.x
For playing music, the drive performance is not an issue, as slow drives will work fine in the Tesla. The big difference is when Tesla needs to index your library. The scanner needs to look inside every song file to extract embedded tiles, albums, and other details. A fast drive allows this process to take minutes instead of hours.
A fast USB drive is also handy to speed up the loading and updating of your music from your PC or Mac.  For a real-world example, a slow USB 2.0 drive that writes at about 1.3 MB/second took 25 hours to copy 120 GB of music!  A fast USB 3.0 drive at 40 MB/second only took about 50 minutes.  I didn't notice much difference when playing from either drive in the Tesla, although track-to-track seems slower with the slow drive.
USB 3.x offers the potential for faster read and write times, but DOESN'T ensure it. Assume any drive that doesn't specify read and write times as being dead slow.  Also, you can use a USB 3.x drive in a USB 2.0 port (like offered on older Tesla vehicles), but with a fast USB 3.x drive, you'll get the best performance using a 3.x port on your PC/Mac. Almost every new PC/Mac today offers at least one 3.x port.  The price difference is minimal now, so I'd strongly consider a 3.x drive over the same sized 2.0 drive, even if you don't have a PC/Mac today that supports USB 3.
Fake USB Drives – Don't Get Taken!
The majority of USB and SD card-type flash drives that are unknown brands, no-names, and most drives appearing on auction sites are fakes. Price is no indicator, although those too good to be true are always fake. Scammers have taken rejected drives and/or low-capacity drives and modified the drive to look like a far larger capacity drive. In reality, only a small part of the drive is usable. Sticking the drive in Windows or a MAC will show the purchased capacity, and you can even write a huge amount of data to the drive without any apparent errors. When you go to read the data, much of it will be missing or corrupted.
The second common trick we've seen is labeling a slow USB 2.0 drive as a USB 3.x drive. They may even use the newer 'blue' 3.x style connector, but inside it's a crappy slow 2.0 drive. White or black connectors are normally associated with USB 2.0. Even if they use the right hardware, the fake drive could be a fraction of the stated speed.
The last aspect of fake drives is the lifetime of writes may be dramatically lower than those from reputable manufacturers. This is not much of an issue for storing music that is updated infrequently but is more important for other applications such as storing dashcam video.
Scammers are hoping you do not discover the drive is far smaller or slower than you thought until long after they are gone and you can't get a refund. This is a rampant problem and it's so bad that you should only buy a drive from a reputable company like Amazon (direct from Amazon, not through resellers), BestBuy, Costco, Newegg, etc., and stay away from a brand you never heard of before.  Even well-known drive companies have seen many counterfeit drives flooding the market through auction sites.
There are a few free tools to detect the true working size of a drive, but they require the drive to be empty, as they need to write data to confirm the true capacity.  I like RMPrepUSB as it's a bit quicker than others I've tried. When installing be sure to select English (German is the default). To use it, if the drive is greater than 128 GB, go to Settings and click on List Large Drives > 128 GiB. Next, select the USB drive in the window (usually only the one drive), and then select Quick Size Test. The test will overwrite data, so be sure there is nothing you need to keep on the USB drive.
After several prompts, a command box opens where the test runs. There are long periods with no visible activity. This is normal. After every 5% of the test is completed, an estimate of the time remaining appears.
It may take an hour or more for a large drive, but when complete, it shows the true USB drive size.
Recommendations
We recommend the following drives that are available online and at other retail stores. Any of these should work great in your car.
| | | | | |
| --- | --- | --- | --- | --- |
| Sizes | USB 3.0 Drive | Style | Read Speed | Write Speed |
| 128 GB | SanDisk Extreme Pro | Stick | 260 MB/s | 240 MB/s |
| 64-512 GB | Patriot Supersonic Magnum | Stick | 260 MB/s | 160 MB/s |
| 16-128 GB | SanDisk Extreme | Stick | 240 MB/s | 190 MB/s |
| 16-256 GB | PNY Turbo | Stick | 180 MB/s | 90 MB/s |
| 16-256 GB | Lexar JumpDrive | Stick | 150 MB/s | 60 MB/s |
| 16-128 GB | SanDisk Ultra Fit 3.0 | Low-Profile | 130 MB/s | 40 MB/s |
| 16-256 GB | SanDisk Ultra Fit 3.1 | Low-Profile | 130 MB/s | 40 MB/s |
| 32-128 GB | Transcend JetFlash | Stick | 90 MB/s | 45 MB/s |
Notes: Speeds are from the manufacturer, and are believed to be accurate.  Costs typically go up as the speed and size go up. 
Formatting Your Drive
FAT32 Format
Most flash drives, 32 GB and under, are pre-formatted for FAT32. Larger drives may be FAT32, exFAT, or NTFS. Only drives that are formatted for FAT32, exFAT, or Linux ext4 can be seen by our cars, so if it is in NTFS, you'll need to reformat it (which will erase all the data on the drive).
Formatting with Windows
With Windows, open Explorer. In the left pane, right-click on the USB drive and select Format. BE ABSOLUTELY SURE you selected the USB flash drive and not another hard disk. Set the File system to FAT32 or exFAT and click Start.
Formatting with GUIformat
For drives larger than 32 GB, to use FAT32 you'll need a third-party utility since Windows doesn't allow formatting FAT32.  One free product we like is GUIformat, which is really simple. Click on the image on the web page to download the program. Run guiformat.exe (there is no installation).
Formatting with RMPrep
You can also use the free RMPrep program listed in the fake drive test above to reformat the drive. Using RMPrep, with the flash drive selected, check the box "Set partition as non-bootable" and in section 4, select FAT32.  Then click on the teal button "6 Prepare Drive".
Formatting with OS X
Open Finder, search for Disk Utility and select.  On the left pane, select your flash drive. Be absolutely sure you've selected your flash drive and not the hard disk!  Click Partition to identify the current format. If not "MS-DOS (FAT)", click Erase. Select MS-DOS (FAT) as the format. Note that Apple makes it a bit confusing as "MS-DOS (FAT)" is really Windows FAT32. Click on the lower "Erase…" button, and a confirmation dialog appears. Click the Erase button and the format should begin.
PART 3: Getting the most out of your music
Formats
We recommend FLAC, as it is a lossless format, especially if you are ripping your existing CD library. Drive capacity is so cheap now it makes little sense to use lower-quality formats. Currently, very few download sites offer FLAC, so you may have to live with lower-quality MP3 or AAC files for downloads. There are no problems with having a mix of FLAC, MP3, and AAC files on the same drive.
The proprietary Apple Lossless format is not usable in the Tesla, although there are programs that can convert these files into playable FLAC files.  One popular converter for the Mac is X Lossless.  Another converter written specifically for us Tesla owners is TeslaTunes.
Apple's proprietary M4P (with Digital Rights Management) will not work in any player other than those made by Apple.  Apple's less restrictive M4A format, more common nowadays, may work depending on the drive or you may get a "Loading Error".  We've done quite a bit of testing with M4A and can state that a Lexar 256 GB drive does play M4A files well. We haven't found a common reason why some drives do not work well with M4A files, and it is not related to drive performance, read speeds, or USB 2 vs USB 3.
Settings
If you have the Ultra High Fidelity Sound option (with MCU1), you may want to turn off Dolby Surround. This sounds counter-intuitive, but this option attempts to convert the stereo audio into 5-channel audio.  This tends to distort the sound in a bad way prior to software 2018.12. Very few owners liked this option for music.
A dramatic improvement was made in 2018.12 to Dolby Surround, so it may be worth a try. Note that it works best with the fader centered, and will sound weak if the fader is shifted towards the back like shown below.
MCU2 (in cars manufactured starting in March 2018) has replaced Dolby Surround with "Immersive Sound", which is presumed to be a similar stereo to 5 channel conversion and works far better than Dolby Surround in our opinion.  Additional Immersive sound improvements were made for MCUZ (2021+ LR/Plaid S/X, and later 2022 3/Y).
Adjust the equalizer for the tonal balance you prefer. The tone controls set at the center (no boost and no cut) are the best starting point.  At a minimum, check the controls to verify someone else didn't change your desired settings.  Note that the more extreme setting of the equalizer will add some distortion to the sound between the bands – true of all equalizers.  Best to take a light approach.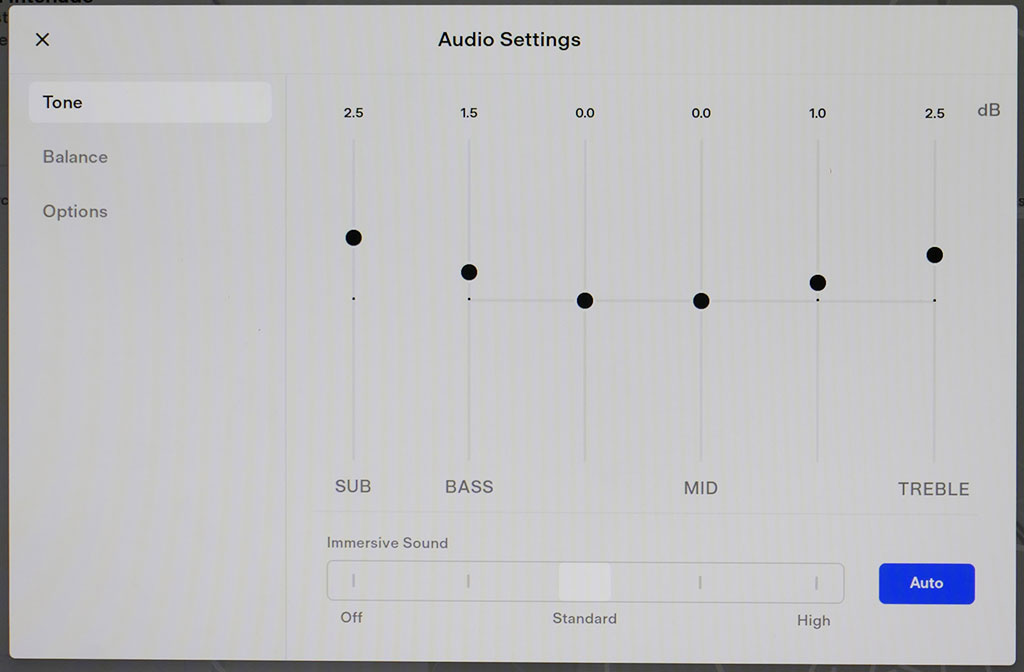 The Tesla also offers a slick four-way balance fader. In the cabin image, touch and move the round crosshairs spot to change the sound field.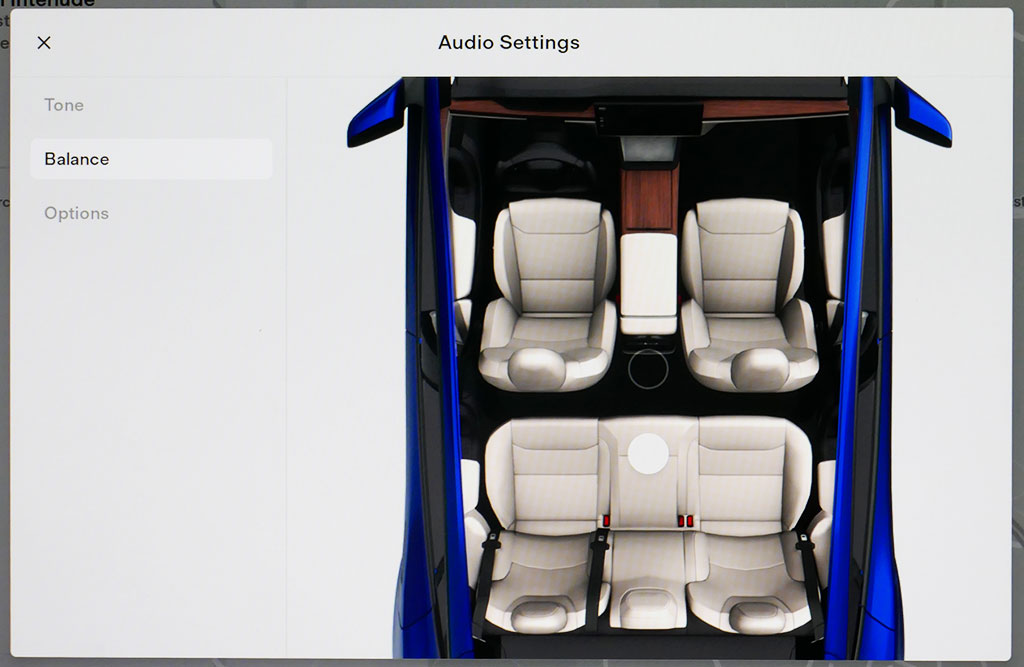 Part 4: Troubleshooting the Media Player
Here are some of the issues owners have had on occasion and how to fix them. These are issues through software 2018.16 (May 2018) and may be improved in a later release.
Loading Error
This occurs when you use a non-supported format, such as Apple's proprietary M4A  with digital rights management. You will need to convert these files to an open standard such as MP3 or FLAC. Apple's M4A will work, but some USB drives work better than others and eliminate the Loading Errors. See part 2, "Formats" above for more about this.
In very rare situations, we've seen the Loading Error on files that have worked fine before. Doing a reboot corrects this. Press both scroll wheels until the center screen goes black. Booting takes about 60 seconds, but the USB drive needs to be rescanned, which may take a few minutes.
Wrong Album Song Order
Tesla does read the embedded track information and track numbering and works fine when playing albums from the Albums menu choice. If you use the Files choice, within a folder it will read songs in alphabetical order of the filenames.  In many cases the filenames will start with the track number – so they play in proper order. In other cases, if the filename is just the song name, the songs within the folder will not be in the original track order.
Files purchased from Amazon use a filename format with the track number first. You can also rip CDs with programs like MediaMonkey to include the track number at the start of the filename.
Also, confirm you didn't turn on the option for random track order.
Missing Cover Art
Tesla uses the album art embedded within the song files. Some programs fail to include the album art and/or only include the album art as a file in the directory of the album (which is ignored).
You can use our free TORG utility (Windows) to scan all the albums on a USB drive to find missing embedded artwork or generate a list of all artists and albums. TORG can also organize your music into alphabetical folders, but this feature is not important with the current Tesla software.
Wrong Cover Art
Assuming the correct artwork is embedded in the music file, we've seen this rare condition when you are playing via the USB, then reboot, and while the USB drive is being scanned, you select another source such as Streaming. Once the USB completes the scanning, it may switch back to the last song that was playing from the USB, but the cover art does not update. Usually, after you get to another song, the correct cover art appears and it works fine from that point.