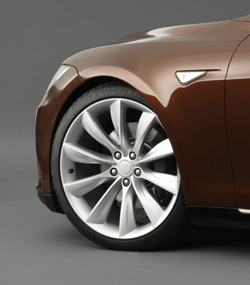 One of the easiest modifications is a set of new rims or tires. There are huge number of choices, available at retail or online.
Tesla has offered the following tires:
For Model S 19″ rims:

Goodyear Eagle RS-A2 245/45R19 98V
Michelin Primacy MXM4
Pirelli 240 Sottozero (winter)

For Model S 21″ rims either:

Continental Extreme Contact DW 245/35R21 96Y
Michelin Pilot Sport PS2 245/35R21 96Y
Staggered Tires, Front: PS2 245/35R21 (front); Rear: PS2 265/35R21 (P85+, some P85D)

For Model X 20″ rims:
For Model X 21″ rims (on Founder's cars, may not be standard):

Michelin Pilot Sport PS2 285/35ZR21 105Y

For Model X 22″ rims:
When selecting replacement tires, aside from getting the correct size, consider these features:
Type (Summer, Winter, All-Seasons, Snow)
Noise
Rolling resistance (lower resistance gets better mileage, but may reduce handling and increase noise, these are often called LRR tires)
Tread life (longer life often adds noise and poorer handling)
Handling (better handling often means short tread life)
Cost
Warranty
Rim rash risk – larger rims are easier to damage on curbs
Puncture risk – Low profile tires tend to have higher puncture risk
To protect against rim rash, see Alloy Gator (has video examples).
You can also chrome plate your existing aluminum rims.