All Model S produced around September 2015 and after include LED license plate lights. All other Tesla models (Model X,  Model 3, and Model Y) include LED license plate lights.  (Mar-2022 update)
The original Model S rear license plate lights use two 10-watt incandescent bulbs, not LEDs. They are positioned for all types of license plates (the USA, Europe's wide plates, and others).
One of the simplest improvements is to swap out these bulbs for a couple of 1-watt LEDs. The LEDs should never need replacement, are brighter, have a cooler color, and save a tiny amount of power (about 18W). You can also see a bit better in the backup camera at night with the additional light.
It takes less than 20 minutes to switch them out. The bulbs are 36mm Festoon style, and a pair of replacement bulbs can be purchased on eBay or Amazon. Here's one source on Amazon:
Do not buy a replacement bulb that has LEDs that are on multiple sides or stick out on the sides.  Best are those that only have one or two LEDs per assembly that point in one direction.
There are two screws to remove from each of the 2 lights.  Note carefully when you pull out the lens it's orientation so you can later return them in the same orientation. When you remove the lens, the bulb should easily snap out of the socket and is held in place by the lens. Remove the old bulb from the lens and replace it with the new one.  Orient the LEDs toward the lens.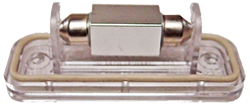 Insert both bulbs back in the sockets, but wait to put the screws back. First, turn on the lights from the Controls screen, and confirm both are working. The LEDs are polarity sensitive, so if it's backward, they will not light up (but are not harmed). If one or both does not light, remove the lens, pull out the bulb and turn the bulb 180 degrees and snap it back into the lens, and then put it back in the socket. It should work! Once they are both working, put the four screws back in. Do not over-tighten!
Our before and after pictures show the LEDs are slightly brighter and have a bit more coverage than the originals. For these photos, we used a white cardboard license placeholder.