There are now multiple options specifically designed for the Model S second row rear seats. The Model X 2nd row already includes two pop-out cupholders, and the third row includes 2 built-in cupholders.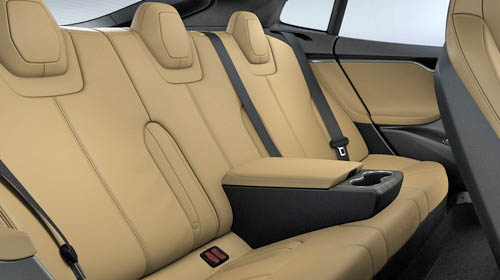 Tesla used to offer an option that installs two adjustable cup-holder straps to the front of the rear-seat bottom.  Owner reviews have been generally poor although some owners do like it. The placement is a bit low. These are no longer available on the Tesla site.
Teslaccessories offers a great, although expensive solution. They replace the center armrests with ones that include cup holders.  It's available in matching black, grey or tan colors. More information is available at the PARZ – Rear Seat Cup Holders page.  Here are the PARZ armrests in grey.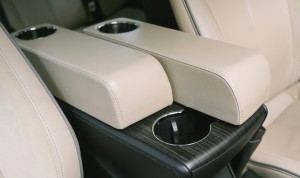 NoFNGas has the Tesla Model S Rear Cup Holder Console. It is small enough to not take up a seating position as it fits on the floor between the back seat and the center pedestal. It can be installed and removed quickly.  A lighted cupholder version is also available (not shown), and several different materials are available at NoFNGas.com.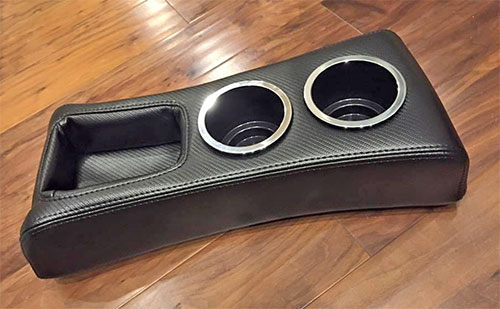 Revozport offers an LCD screen and cupholders module for the rear passengers. Designed specifically for the Tesla Model S, it cleverly surrounds the center console without interfering with the vents or front armrests. (This appears to be out of production now).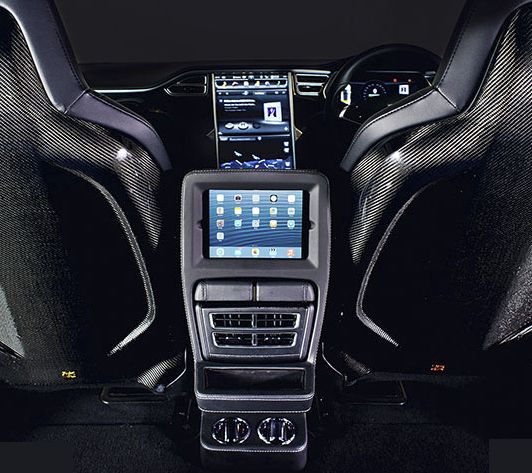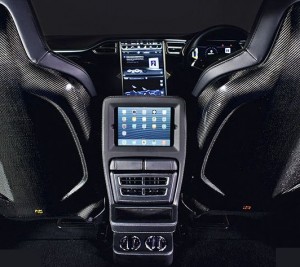 TeslaCupholders makes both a front and rear pair of relatively low-cost cup holder additions that attach to the center pedestal. Each includes a slot for cell phones. They also offer a number of visual choices.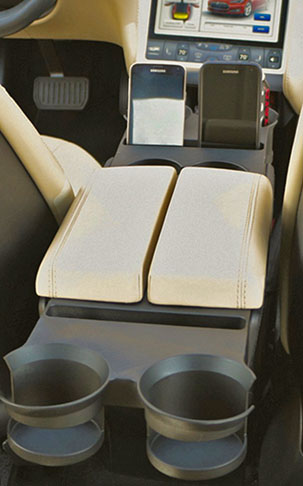 Other Solutions
TSI Products makes a generic product to fit into the back seat, but are not specifically designed for the Tesla.