Many owners of older Model S want more storage than the glove box. A console in the center front and/or rear can provide that storage. We've listed many of the options now available from Tesla Motors and third parties that are designed specifically for your Classic Model S.  All model X and Model S cars made since March 2016 include a front center console.
The Tesla front console and pedestal used to be available in piano black with side padding in black upholstery. This design was released in June 2016 and includes a new pedestal with pop-out rear seat cup holders. It's no longer listed in the Tesla store, so it may not be available. An optional phone dock also used to be available for micro-USB and Apple lightning connections.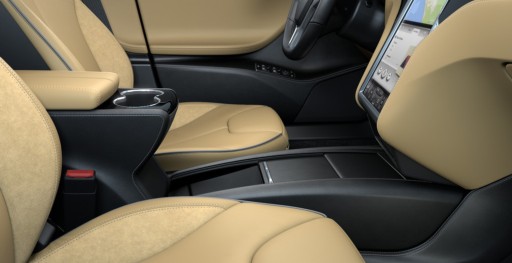 A rear console used to be available from Tesla. You might contact Tesla to see if any remain in stock. The top pad can be selected in matching Nappa leather, or synthetic black leather.  It also has matching wood trim choices. It includes two cup holders and a storage compartment.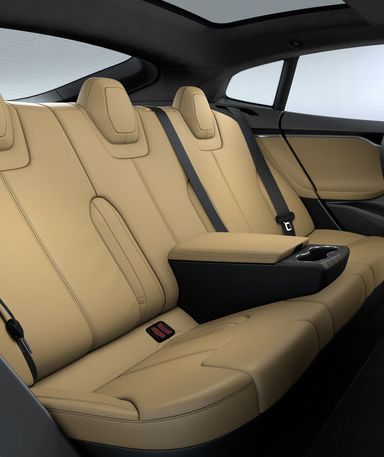 EVannex offers a customized drop-in center console specifically for the front of the Model S. It includes a single cup-holder, an optional second cup holder, a bin with a sliding lid, and a slot to hold and charge a cell phone. They offer different upholstery colors (black/gray/tan) and six different deck finishes to match your Model S interior style and four additional finishes to match their optional Dash Trim Appliqué Kit styles.
Tesla&More offers a black powder-coated aluminum open divider that is designed specifically to fit in the front center area for the Model S. I've personally tested one out. It fits snugly and is surprisingly well made. It will easily last the life of the car.
Made of black silicone material, the TopFit unit is both functional, low cost, and designed specifically for the Model S.
Similar to version 2, this unit has one cupholder and is likely the lowest cost center console available.
User-Created Center Consoles
There are also a number of generic center consoles, but it's unclear if any of these will fit properly: You can use a search engine to locate these other possibilities.