Our Tesla WiFi guide shows you the why and how of WiFi along with troubleshooting tips and tricks. (Oct-2019 update).
---
Why Connect to WiFi?
Tesla recommends connecting to WiFi while at home if you have a network connection available. In some cases, updates through WiFi get priority over those Tesla sends over the cellular connection.  You can also use WiFi to tether the vehicle to the internet through your phone. This can save you money after the 4 years of free cellular connection expires, or if you have a poor cellular connection in your normal travel area and have a better connection via your phone.
---
Requirements
2.4 GHz WiFi (All Model 3 and S/X cars built after Feb-2018 have 5 GHz support as well).
Must use WPA or WPA2 security, or no security (The obsolete WEP standard no longer works with 8.0 software and later)
Allows a VPN with UDP without a short timeout (see technical below for explanation)
WiFi must have an internet connection
---
Making a Connection (S/X)
At the top of the main display, tap on the signal strength indicator. A list of available and previously set WiFi connections will appear.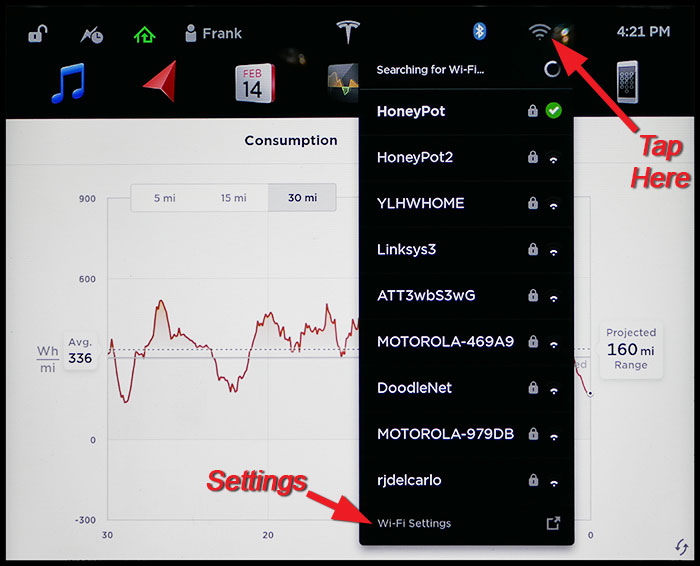 Tap the one you want and if never accessed before, enter the password for your WiFi router. It will remember the connection and automatically connect when in range.  If you travel to another location and it has WiFi, you can use the same process to add additional connections.
To add a new WiFi connection you can also go into settings and tap Add Network.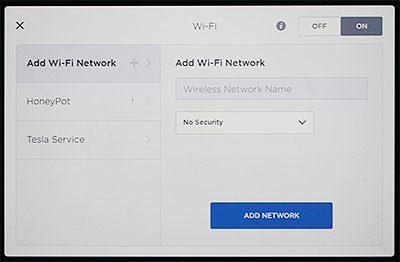 When you add a network via the dialog, there are a few quirks to be aware of. After you enter the password and press "Enter" on the keyboard nothing will happen. You have to tap "CONNECT". It usually takes about 30 seconds to validate and connect. If it fails, it usually does within about 1 minute.  In either case, it doesn't directly tell you if it succeeded or failed. If succeeded, the security and password and a button "FORGET NETWORK" will be grayed out and cannot be selected. If it failed, These options will be available and the "CONNECT" button also remains. You can then try another password.
We've also identified a Tesla bug that if your password has a single quote symbol, the password will be rejected. This should be an allowable password character and we've laboriously confirmed all other symbols on a US keyboard work fine in a password.
Most Tesla sales offices and service centers have free WiFi. It will connect automatically without needing any entry. If your vehicle is in for service and has an open service order, and the vehicle needs a new update, the update will be downloaded automatically while at service.
---
Antenna
The vehicle's WiFi antenna is in the right side mirror housing on both LHD and RHD vehicles. The best signal strength occurs with a minimum of walls and objects between the antenna and your WiFi router. The image below shows the mirror with the back removed. The smaller rectangular antenna on the left is the WiFi antenna. The larger antenna is for cellular.
---
Technical
The vehicle's WiFi hardware is located behind the main display. When a connection is made, Tesla uses a VPN (Virtual Private Network) with UDP (User Datagram Protocol). What this means is the data passed through the connection will be secure and low-latency.
---
Testing in Your Vehicle
When the vehicle is connected via WiFi, at the top of the main display the five-bar cellular signal strength indicator changes to the WiFi icon with arcs for signal strength indication.
You can try any of these three easy tests:
Maps – Move the map to a new location or zoom out. The gray areas should fill in quickly.
Music – Select Streaming and select a category to play. Confirm the music plays.
Web – Select the browser and enter a site like Teslatap.com.  The home page should display.
---
Testing WiFi
We wrote a WiFi Meter app for Android phones and tablets. While we don't think you need it (and it costs all of $0.99), it may be helpful to some.  It gives you a far more precise indication of signal levels at different locations, a speed test and a number of other WiFi details and helps to explain what it all means.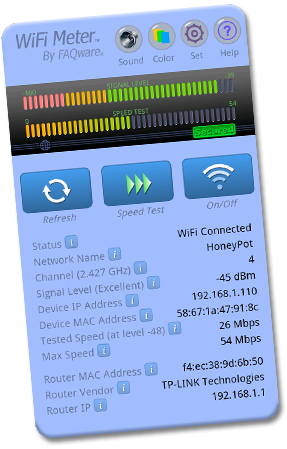 ---
Oddities
When the vehicle is using WiFi and you drive away outside its range, the vehicle automatically switches to the cellular connection. This switchover can take a few seconds, and if you're listening to Streaming music, it may force the next song to start playing, even if the prior one was not completed.  It seems more transparent when switching from cellular to WiFi.
---
Troubleshooting
Weak signal

Many owners find they get a weak signal in the Tesla from a home router. Typically, the router is far away from the garage and the signal must penetrate many walls, greatly reducing the signal level. If the tests above are slow or erratic, you may want to improve the signal to your vehicle. Solutions to consider include:
Move the location of your WiFi Router
If you can move the WiFi router closer to the vehicle, it should increase the signal strength. Often hard to do, so one of the other solutions may be required.
Get a new WiFi router
If your router is more than a few years old and/or a bottom end cheap router, it likely performs poorly in general.  Most routers that are provided by your Internet provider are also usually bottom end devices that will contribute to the problem. Look for a premium WiFi router that connects to your internet connection. Note that there are different connection types – DSL, cable modem or Ethernet to your internet equipment. See below for our recommendations.
Get a WiFi Extender (also called repeater or booster)
These devices are located halfway between the router and your Tesla. It picks up your WiFi signal and then re-transmits it – extending the range of your WiFi. The device only needs a power plug – no other wires are necessary, although most also provide one or more router ethernet ports. See below for our recommendations.
Move your vehicle to a better position
You may get some improvement by just moving the vehicle.  Position the vehicle so that the right side mirror is closer to your router.
Doesn't work or you never get updates

Here's our list of possible fixes:
Reboot
If WiFi had been working fine, but just stops working, try a reboot in the Tesla. Press in both scroll wheels for about 15 seconds, until the main display goes black. A reboot takes less than 60 seconds, but WiFi may take some additional time to get reestablished – less than 2 minutes.
Remove and Reconnect
Go into the vehicle and select the antenna icon at the top of the display and go into WiFi. Remove your current connection, reconnect and enter the password.
Use 2.4 GHz WiFi (S/X built prior to March-2018)
Most WiFi routers use 2.4 GHz or a mix of 2.4 and 5 GHz. If your router is set to only accept 5 GHz or perhaps a setting of "N only", the vehicle will not connect. Change the router's settings to allow 2.4 GHz. Newer high-end routers allow both 2.4 and 5 GHz communications at the same time, which may be beneficial for your situation.  Model S and X built after February 2018 include hardware and software to support 5 GHz, as does all Model 3s.
Change Router Band
On your router, check if the router is set to a congested or non-supported band. The Tesla hardware support bands 1-11, the standard in the USA. Some countries allow additional bands that Tesla cannot use, so if you're outside the USA, be sure to use bands 1-11.  Due to reduced interchannel interference, channels 1, 6 and 11 can often be a bit more reliable than other channels.
Use WPA/WPA2
On your router, confirm your WiFi is set up for WPA or better WPA2.  If you are using the obsolete and insecure WEP standard, the vehicle will not connect.  It will connect if you have no security, but we don't recommend anyone leave a WiFi router set to No security. It's not an issue for your vehicle, as all communications are encrypted.
Unblock VPN connections
While most routers have no problems with VPNs, some may have an option to block/allow VPNs or it has a firewall that blocks a VPN. Check your router to see if there is a VPN blocking option and set it so it does not block VPNs.  VPNs use port 1194. Some routers have a firewall that blocks everything other than ports 21, 80 and 443. Allow port 1194 as outgoing. Note this is not the PC's firewall, which doesn't matter. This is a setting within the router itself and does not affect the security of your network.
Change UDP timeouts
Some routers have a short UDP timeout that can screw up Tesla updates and downloads. If you can find UDP timeouts (not all routers have this option), for Unreplied and Assured, set the values to 60 seconds.
Switch to a Guest Network
Most routers today offer a guest network option with a separate SSID WiFi Name.  Some complex home systems that have a DLNA server in the network (even if wired), seem to cause connection problems with the Tesla and/or make the Tesla keep connecting and disconnecting. A guest network connection on a separate IP, without any DLNA servers, often makes it all work.
Auto connects at one place, but not another place
For example, it works at home, but will not auto-connect at your summer cabin.  Check if both locations use the same WiFi SSID name. Only the details from one SSID name can be saved. If this is the case, change one of the WiFi SSID names so that they are not the same.
---
Recommended WiFi Routers
There are hundreds of WiFi routers, but like most products, there is considerable variance in the quality of WiFi supported, features and price. We've compiled a list of highly-rated WiFi routers over a range of prices that could enhance your Wifi to your Tesla and other devices in your home.  All support dual-band 2.4 GHz and 5 GHz, have Gigabit Ethernet ports, and support the standards – 802.11 a/b/g/n/ac.  Cost is the street price as of Jul-2019 and may change.​
Linksys
TRENDnet
TP-Link
ASUS
NetGear
Model
EA6350
TEW-827DRU
Touch P5
RT-AC88U
X10–AD7200
Photo
Cost
$79
$100
$74
$222
$379
Released
May-2014
Jan-2015
Apr-2016
Oct-2015
Sep-2016
Ports
4
4
4
8
6 + 1-10GB
USBs
1
2
2
2
2 – 3.0
MU-MIMO
No
Yes
No
Yes
Yes
Other
Touch-screen
Tri-band;
Plex Server
MU-MIMO – allows multiple simultaneous communications on different channels. Especially desirable with 4K video and other devices on the WiFi network.
---
Recommended Extenders
Use an extender to provide more quality WiFi coverage in your house or garage. There are quite a few low-cost extenders in the $30-50 range, but most lack power and/or feature that you may want for other devices in your house. All those below support dual-band 2.4 GHz and 5 GHz, have one or more Ethernet ports, and support the standards – 802.11 a/b/g/n/ac.  Cost is the street price as of Jul-2019 and may change.
TP-Link
Linksys
Amped
NETGEAR
TP-Link
Model
RE350
RE6500
TAP-EX2
EX7000
RE590T
Photo
Cost
$46
$70
$46
$110
$55
Released
Aug-2016
Jun-2014
Apr-2015
Jan-2015
Feb-2016
Ports
1
4
3
5
4
Other
Strength LEDs
Audio Jack
Touch screen,
USB
Touch Screen