| | | |
| --- | --- | --- |
| If you got in an accident, we hope Tesla's excellent safety systems helped prevent or reduce any injuries to you and your passengers – far more important than any vehicle damage. We'll cover some of the ins and outs of what the repair process is and how to get driving again in your Tesla sooner than later. (Sep-2020 update) |   | |
---
Totaled
If your vehicle was totaled, there's not too much we can offer here. Your insurance may low-ball the value of your car.  Obviously, the maximum depreciation occurs during the first year of ownership, so a totaled car during this period can be especially painful. A few policies offer replacement coverage if the vehicle is totaled in the first year of operation. Check your policy if this may apply to you.  I'd also check Kelly Blue Book to confirm if the price they are offering is in the ballpark. You might be able to negotiate a higher value, but don't count on it.
If you plan to get a new Tesla, let Tesla know of the circumstances. In a few cases, Tesla has moved a replacement order to the front of the manufacturing queue. It's not a certainty, but it is worth asking.
---
Loaners
Tesla's loaner program is only for scheduled work done at the Tesla service center. Tesla is not responsible for providing a vehicle during accident body shop repair work – that's the insurer's responsibility. That said, there have been a few rare cases where Tesla provided a loaner due to unusually long waits for Tesla parts.
While your vehicle is being repaired, most insurance policies offer some coverage for a rental car. Check your policy carefully, as the defaults are often rather skimpy – limiting the daily cost, total cost, and duration. Ideally, they should provide a vehicle of similar size (i.e. a large sedan for the S or 3, an SUV for the X). If you're not at fault in the accident, the other party's insurer may be responsible and you shouldn't get short-changed on the rental. Some negotiations may be necessary. Don't expect to get a Tesla as a rental, but neither should you put up with a sub-compact cheapo rental.
---
The Typical Repair Process
There are many steps in the repair process. While many steps are fairly quick, some can dramatically slow the process. Some owners have had insurance companies take weeks to approve a repair, while others do it in hours. During the disassembly process, additional issues may be discovered. This adds another cycle of insurance approvals, parts, and other steps.
Some actions like the Autopilot camera calibration and 4-wheel alignment may need to go to a Tesla service center for additional work if the body shop is not equipped for these items. For example, if the windshield is replaced, the camera may need to be calibrated.
We created the following process diagram for more complex repairs that require a Tesla approved body shop. For accidents with minimal damage, such as paint scratches, you do not need to use a Tesla approved shop, and you may find it considerably cheaper to use a local shop you're comfortable with.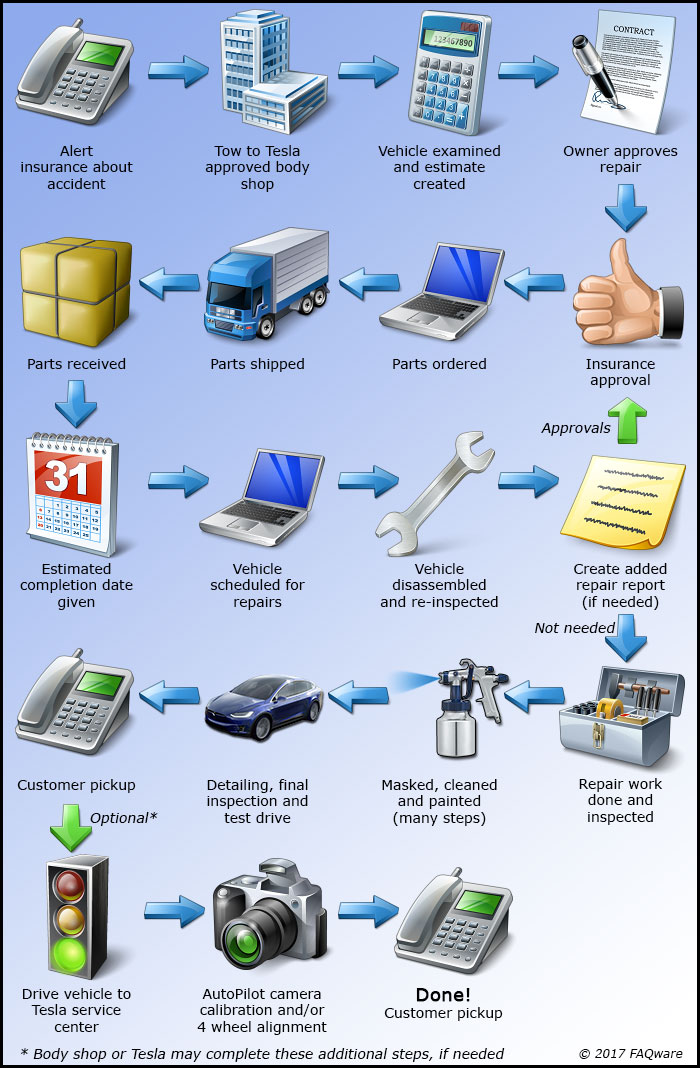 ---
Body Shop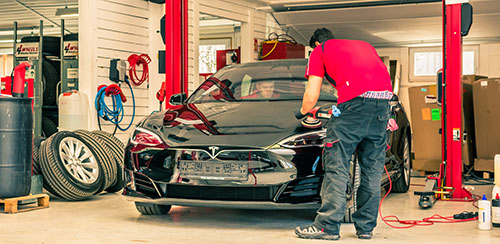 Generally, you're going to need to take your Tesla to a Tesla-approved body shop or one of Tesla's own body shops. These shops have gone through Tesla's training and have equipment specific to Tesla on hand.  Be aware there are often only one or two shops in each area.  This is partly due to the costs involved in getting certified by Tesla, and partly due to Aluminum bodywork, which is somewhat specialized.
Visit Tesla's List of approved body shops. to find one near you. Some insurance companies may direct you to a preferred body shop. Unless it is Tesla certified, insist on using a Tesla certified shop for any major repairs. A non-certified shop may not have access to the right tools and parts if there is aluminum or electronics damage.
Tesla has a new Body shop advocate group that can help in following up with the body shop to get your concerns resolved. From Tesla:
For support with your Tesla at a Body Shop, you can reach us by email at BodyShopSupport@tesla.com. Please reference your VIN and which Body Shop you are working with so we can promptly assist.
Tesla has also created some of its own Body shops in high-volume areas. These shops even stock some parts like pre-painted bumper covers to speed the repair. As of mid-2019, Tesla has eleven shops in the USA.
---
Timing
For minor repairs, often the entire process can be handled in less than a week. For major repairs, 2-4 weeks is typical, but in rare cases over 8 weeks is possible. Be aware that what appears to be minor, can have hidden damage that adds cost and is time-consuming to repair.
Some of the issues that could slow the repair down:
Getting the vehicle to the body shop
Completing the repair estimate
Insurance approval delays
Body shop overloaded with work
Parts slow to arrive
Additional damage discovery when the repair work is in progress
In the past, Tesla has had an 18-day average parts delivery time but has revamped the parts system with a target to get this average time down to 3 days. Tesla has also created additional regional parts distribution centers to help reduce the transit time.
---
Tesla Parts Delays
Tesla keeps getting better, but occasional reports occur of long parts delays. Not to make excuses for Tesla, but here are common reasons for the delay of parts:
The parts no longer in production – Tesla makes frequent changes to the design, and often the parts used in current production will not work on your older vehicle.
The part needed is undergoing a redesign for improvement – Tesla may have let the inventory expire waiting for a better part.
A third-party that makes the part for Tesla isn't providing enough parts in a timely manner – This happened several years ago with special aluminum rivets made in Japan were in high demand by many automakers.
Tesla didn't anticipate a run on some specific part and must order more.
Long transit times to locations far from California.
---
Diminished Value Claim
After a serious accident repair, the fact the vehicle was in an accident may reduce the eventual resale value. You may have rights to a diminished value claim.  This could be worth several hundred or even a few thousand dollars. It can be difficult to get this, as the insurance industry doesn't like to hand out money! Lawyers and experts may be required that could eat up any funds received.  Be sure to get good photos of the vehicle before repairs are made. It may help in the process.
This Diminished claim thread on the Tesla forum talks about it in more detail.
---
Aluminum vs. Steel – why so expensive?
Aluminum is a great material – strong, light, and has high corrosion resistance. In the Tesla, it helps keep the car weight down, improving efficiency and range. The downside of Aluminum is it is costly to manufacture and is often more expensive to repair. Aluminum structures are typically 60 to 80% more expensive to make than steel.
Some current vehicles that use aluminum for a significant part of the structure include the Audi A8L, Ford F150, Acura NSX (old and new models), BMW i8, Mercedes-Benz SL-Class, Jaguar XJ, Alfa Romeo 4C, Chevrolet Corvette (Chassis), Cadillac CT6 and Jaguar XE.
For small dents, a paintless dent repair service may work. Aluminum panels are less likely to be successful, but in some cases, it makes for a very cost-effective repair.
A more seriously damaged steel panel can be repaired by pounding out and/or using Bondo to fill in the area. This is a relatively cheap repair, although the quality is not on par with a total replacement of the panel.
Most damaged aluminum panels must be replaced. In the factory, the panel is typically glued and welded while the tools can get to both sides of a seam. After the car is built, the only way to replace a panel such as a fender is to cut the panel out and attach a new panel with glue and rivets. This is more labor-intensive than Bondo type repairs, but the end quality is far superior – very close to new.
---
Why are some vehicles faster to repair?
A high-volume vehicle gets into a lot more accidents. This means there are more shops to repair these cars and mechanics trained to do this work. For parts, there are multiple companies making replacement parts (beyond OEM parts). Parts are also warehoused in many locations, as the demand for parts warrants high inventory levels.  The insurance companies are so used to dealing with a high-volume car, they have a very good idea of the costs as well and can speed approvals.
As you get to lower volume premium vehicles such as made by Tesla, BMW, or Audi, there are fewer body shops that can do the work well. Parts availability also becomes more limited in inventory and distribution. There are rarely any third-parties making replacement parts either.
As you get to very limited production cars like Ferrari or Lamborghini, replacement body parts are often hand-built to order and can take 6 months or more to get. These repair costs are also extremely expensive.
---
Links
Tesla Body Shop page – with locations of Tesla owned body shops and Tesla approved body shops.
This 15-minute video has a Model S repair done at a non-Tesla approved shop showing the work required, comparing repair costs with other makes, and more.